Butterfly Release Comforts Those Suffering Loss: Second Annual IRIS Event Draws 50 Participants
Faribault Daily News
By Pauline Schreiber
July 11, 2008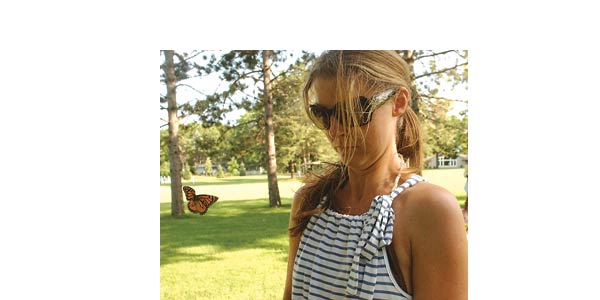 Katie Tonjum looks down just as the butterfly that had landed on her, and stayed for quite a long time, flew away. Fifty monarch butterfulies were released Friday at the Faribault Golf Club in memory of people who had died.
(Pauline Schreiber/Daily News)
Fifty orange and black Monarch butterflies quickly took flight over the Faribault Golf Club Course Friday as the second annual Infants Remembered In Silence memorial butterfly release got underway.

While most rushed off, one of the brilliant monarch butterflies fluttered from the hands of Helen Kramer to the shirt of her granddaughter, Katie Tonjum, and hung on for the longest time.

"This is so amazing," Tonjum said, as she looked down at the butterfly on her shirt.

Tonjum and her husband, Tim, lost their third son, Ben Timothy, on Jan. 1. Hearing of the butterfly release, it sounded to them like a great way to remember their son.

The butterfly kept hanging on, and hanging on, while the others could be seen fluttering around the nearby evergreen trees or butterfly bush plants that had been placed near the release sight. But finally, it, too, took flight.

"That was so special," Tonjum said. "It makes you feel there is a greater power out there."

For the second year in a row, IRIS held a butterfly release as part of its annual summer golf tournament benefit.

IRIS is dedicated to supporting families who suffer a loss of a child in pregnancy, early infancy or from accident or disease. People could release a butterfly Friday in memory of anyone who had died, not just infants. But most who participated did so to remember an infant or child who had died.

Pam Russell and her daughter, Allison Ziegler, came to release butterflies in memory of the children of her daughter and son-in-law, Beth and Eric Brandt. Hope, Faith, Grace and twins Abigail and Noah all were lost through miscarriage or premature birth.

"Beth is pregnant again...at 33 weeks and the doctor put her on bed rest," Russell said. "It's a little girl and we are all praying everything will be OK. But they wanted to honor the memory of their children so we're releasing butterflies for them."

Russell had grandchildren, Tristen Russell, Tyler Ziegler, and Hailey Meyer, along to help with the release. Most of their butterflies shot out of the paper triangle they had been in, and up into the sky, not giving the family much time with them. But Hailey's butterfly fluttered around the ground for awhile, giving them lots of delight.
Diana Sundwall founded IRIS in 1987 after she and her husband suffered the full-term, stillborn death of their son, Derek, without benefit of a support group to help them grieve their loss. In the beginning, she had hoped to help one family a year. Last year the organization assisted approximately 6,000 people in the six-county area it serves, including Rice and Steele counties.

Benefits like Friday's golf tournament and butterfly release are vital to keep IRIS helping families, Sundwall said.

"We had 35 golfers and 50 people paid $20 to release a butterfly," Sundwall said. "The day's been good."